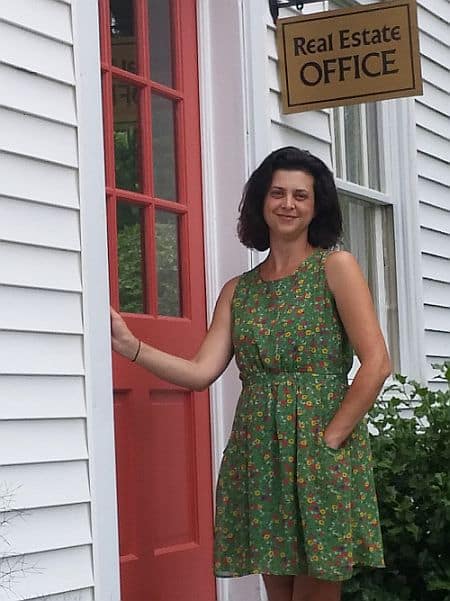 When you think about the mountains in Western North Carolina do you think about cool creeks, lofty views of hazy blue mountains, forests filled with diverse wildflowers and trees, or do you think about the vibrant cultural City of Asheville?
My name is Rachael Giesenschlag, and as a native of Asheville, I understand why you want to call this area home. I have seen the Asheville area change from being a small town filled with empty store fronts, to the bustling city that it is now. I deeply love the City of Asheville with its live music scene and incredible culinary and brewery selections. Growing up in Asheville, my family would escape to the Blue Ridge Parkway to hike and swim.
My appreciation of the beauty of the national forest led to my desire to study herbalism, gardening, and eventually to pursue my passion of garden design. This region is such a pleasurable area to reside in, that I think most people who live here feel incredibly lucky to call the region of Western North Carolina home. As a real estate agent, I take pride in the relationships that I build with people.
Allow me to help you locate your future home. Purchasing real estate is a very important and very personal process and it is my duty as an agent to facilitate this process for you in the most stress-free and efficient way possible. I look forward to meeting and working with you soon!
Testimonials
"Working with Rachel was such a delight. As a native, her knowledge of the area is unparalleled and was crucial in our search. She really took the time to understand our needs and goals, making the process not only smooth but enjoyable. We've already been recommending her to our friends."
Best,
John and Stacey
---
"Rachael did an amazing job in assisting me with finding an investment property in the Asheville area. She worked long and hard to find properties that were among my criteria and her knowledge of the area saved lots of driving around time. Since I was out of town she even went above and beyond to view a couple of properties to send me pictures. Thats service! In the end after looking over three counties for the perfect Log Cabin, we ended up with an investment Condo downtown Asheville! The numbers just worked. Really appreciate the time and effort that she put into this and can not say enough. There is no reason to do the leg work when you have Rachael, she will find exactly what you are looking for!"
Banff Luther
---
"I recently purchased land in the Asheville area with Rachel's guidance. With her help, the monumental tasks of wading thru the sea of listed properties and completing the details of the closing were made easy! Thank you so much Rachael!"
Beecher Sherwood of Lonesome Mountain Woodcraft
---
Fellow House Hunters,
Rachael Giesenschlag was recently our realtor during our Asheville house search. If you've been keeping up with Asheville real estate; you already know what a challenge it can be to find the correct home in the right location and at a reasonable price point.
Rachael found the perfect formula and got us a great deal in the ideal location. It required a lot of skills on Rachael's behalf.
We didn't know the area; but she has been a resident since childhood. She knows the neighborhoods, history, trends and people. She steered us in the right direction; finding enclaves that matched our personalities and needs.
Some of the neighborhoods were "hot" seller markets. What a challenge! Rachael was "on the spot"; often we were first to see the house in a market where the offers were pouring in as soon as it was listed. She never delayed getting an appointment or submitting an offer.
In a market like Asheville, it is likely that to get an affordable home in a desirable neighborhood, that buyers need to purchase a "fixer-upper." Rachael has an equal mix of vision and realism when it comes to these hidden gems or money-pits. She would walk through a house and foresee the changes that would suit our lifestyle. She carried on an authentic, "present-tense" dialog as we walked through. For example, "Once you remove these blinds and change out the fixtures; it will be a bright and cheerful kitchen" or "When you trim these trees, you'll have a wintertime view." What's more impressive is that she knows her limitations and switched to inquiry, "Do you suppose this is a load supporting wall?" Or offered to match-make one of her multitude of local resources, "My friend from high-school is a contractor"; "I've worked very closely with this inspector and everybody says he's extremely thorough."
Even in our disappointments (which happened when we were late to the game, outbid, or uncovered issues); Rachael was always painting a positive picture. She optimistically and enthusiastically found the next list of houses to visit and reassured us that we'd find success.
And we did! Rachael is also very aware of market forces and home values. She always advised us on the right direction (vs. asking price) to place our offers. She suggested less than asking on the house we ultimately purchased and, end-the-end, I estimate that she saved us as much as 10% using shrewd insights and data.
We ended up in a great neighborhood with a great deal. The help and advice was perfect and we got our hidden gem. The offer and closing went seamlessly. We can't wait for Rachael to have lunch with us, sit on the shady deck, see our changes and watch the sunset behind our "winter view."
We wish you the best in your house hunting!
Doug & Tonda MacLeod
---
Rachael was a very friendly and passionate REALTOR® that really worked hard for us to find our dream home. She spent numerous days working and looking in Buncombe, Haywood, and Madison Counties. She met with us and assisted even helping watch our son while we looked at houses. She was a pleasure to work with and a very professional REALTOR®. It was a pleasure working with her and I would definitely recommend her as a great agent to find your dream home.
Happy Buyer
---
Rachael helped us get the home that was perfect for us and we couldn't have done it without her. She was very available to answer questions, and if she was unsure, she was extremely prompt about figuring things out. She guided us through all of the fine print of the process and was always on top of what needed to be done next. But most of all, she seemed to actually care about us getting the house we wanted.
Jeff Loops
---
When I began looking for a new place to live I was referred to Rachael Giesenschlag. She is an easy-going, fun person to work with. Her knowledge of the Madison county market and genuine interest in our needs and desires made buying our property a great experience. She was very professional and took the time and patience to work with me while I was driving back and forth to look at properties from out of state. In the end she found us our dream home with every aspect we were looking for and executed the closing flawlessly. I am forever grateful for everything Rachael did for us and would highly recommend her to anyone looking for their dream home.
John
---
​While looking for a new home in the hills of North Carolina from out of state, my wife and I spoke with several realtors to identify who would best understand our wants and requirements. After talking with Rachael and walking a property with her, she demonstrated a love of the land and a keen interest in finding us our new home.
We worked with Rachael to walk several properties, with each review, getting closer to the property we selected to be our home. During this time, Rachael stayed in close contact with us, alerting us to new properties and advising us on current and future aspects of each property that we did not initially see. She was incredibly helpful as we looked at properties, leading to the eventual selection of our home.
From the offer through to closing (and even post closing), Rachael continues to be incredibly helpful with communications between ourselves and the larger team (including finance, legal, etc.). Her relationship with the seller agent was especially helpful with some unexpected items during discovery and bringing us to closure. Closing was seamless, with plenty of signatures and participating in the recording of the deed with our lawyer, and catching a small typo at the very end of the process.
We were incredibly happy with Rachael and her knowledge of the area as well as the county and state regulations that are part of the home buying process. We will happily recommend her to help you find a home in the lovely hills of North Carolina.
M & R
---
After our Colorado home went under contract the 2nd day we listed it, my wife and I scrambled to find a responsive Realtor to help us find a home in the Asheville area. My wife and I reached out to several Agents and Rachael was the first to respond and she consistently sent us new listings as they came up on the market. Rachael always responded quickly via text and e-mail and she had everything lined up for us when I flew in to look at homes in the area and we found the home we always wanted.
Rachael was there to arrange and support the many inspections by contractors during the Due Diligence period that uncovered repairs needed on the home and she helped us work the negotiations with the selling Agent to re-negotiate the price of the home and to allow for many of the repairs needed to be performed before closing. We were extremely happy with Rachael's performance and I highly recommend her.
Thanks for everything, Joe
---

""Rachael was a wonderful help to us during our property search and purchase. As newcomers to Madison County, as well as North Carolina, and having never purchased raw land before, we were pretty overwhelmed with all the decisions we had to make and steps we hd to take to figure out if a property could be affordably developed. Racheal made the process so much easier, she helped us through every step, and was full of insight and knowledge, and even helped us out after our purchase with an issue that came up with our new deed. She was always available right away when we had questions, and made everything with our purchase and closing go very smoothly. She's definitely someone I would recommend to my family and friends, and will call her again in the future for any real estate sales or purchases we may make!"
– Emily & Antoine

---
"I can not say enough about how wonderful Rachael is. When I first started looking for houses in the area it was July of last year. I didn't want to work with a realtor because of past experiences I had, and I was looking for something so specific I knew I would drive a realtor nuts. In a stroke of, what I recognize as luck, I was introduced to Rachael. She was so patient with me, with all my "wants and needs." She never pressured me about anything and always gave me solid advice, even when I was being alittle stubborn. Rachael always responded within minutes of me contacting her. Not once in the months that we worked together did she ever make me wait. Not once. She showed me houses in the cold, in the snow,in the rain, at 7am, at sometimes after dark. We saw foreclosed homes, private homes, on long uphill dirt roads, off busy highways, houses up to an hour away and houses in every single city north of Asheville. She never once hesitated or complained. We battled spider webs together and even rubber snakes once. She was a rock through a very difficult time for me and honestly she is so personable I consider her a friend now. Once again I cannot say enough about how wonderful she is. We wouldn't have found our home without her and I am completely satisfied with how she handled the whole negotiation and closing. I would, without hesitation, recommend Rachael Giesenschlag to anyone who is looking for a realtor."
– Yogi Von D
"Rachael is a true hard working and genuine professional. She listened to our needs and diligently negotiated for what was in our best interest. Rain or shine (mostly rain!) she was accommodating to our schedule and communicated quickly to us and for us. She is very knowledgeable in the area and was helpful in finding the perfect spot! Truly an advantageous person to have in your corner."
-Kristina and Michelle
---
Rachael is the BEST!! You know you are in good hands from the moment you meet her. She is pleasant, reassuring and always very quick to respond to any question. We recently purchased a cabin with her help and she handled every single step with ease. She knows a great deal about the area and the types of available properties. She negotiated us through a multiple bid situation and we ended up getting exactly what we wanted and then some! I would recommend her to anyone and I hope to work with her again sometime soon! Thanks Rachael for always going the extra mile for us!! It has been a pleasure"
-Tyler Rogero
---
"This was my very first home purchase. Working with Rachael made the whole experience so much fun; she always kept things positive and professional. She is knowledgeable, always on top of things, and never pushy. Rachael has extensive knowledge of the region and was always happy to drive out in the country to show me property, no matter how far it was. She took me calmly and easily through a process that could have been really stressful. Now, not only do I have a beautiful new home that I love, I have a wonderful new friend too. If you need an agent to help you find land or a house, I wholeheartedly recommend Rachael Giesenschlag"
​- Lou Anne Jordan ​
828-622-7100 Madison Office
828-505-2523 Asheville Office

828-713-9835 cell phone

rachaelgiesenschlag@gmail.com
10 Derringer Drive,
Marshall NC, 28753
Receive Email Alerts from Me
Rachael Giesenschlag 's Listings
#3257049 | Single Family Home
Contact Me