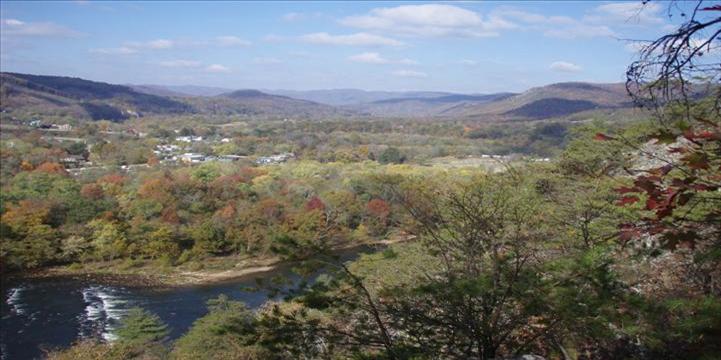 Hot Springs is a beautiful and secluded rural mountain town located in the northwest corner of Madison County, located about a half hour from Marshall and just under an hour from Asheville, North Carolina.
It sits at the confluence of Spring Creek and the French Broad River, tucked away in a mountain valley known for its therapeutic hot mineral springs. Its the perfect getaway or a great place to live. Hot Springs is an extremely popular outdoor recreation area with three seasons of hiking, mountain biking, fishing, and horseback riding. The waters of the river invite many to enjoy whitewater rafting, canoeing, tubing, kayaking, or just relaxing by the waters edge with a good book.  In the Winter, skiing and snowboarding areas are nearby.
At a Quarter Billion years old, the French Broad River transverses the middle of Hot Springs as you are surrounded by the majestic Blue Ridge Mountains and Pisgah National Forest. With the only mineral hot springs in North Carolina and friendly people all around in this amazing natural setting, can you imagine a more ideal place to be?
With a Winter population of around 600-700 people, our area is quietly delightful in the cool months. However, as soon as Spring brings the buds and leaves the Hikers come out to play! Festivals are common in the Spring, Summer and Fall and our population doubles by Summer as seasonal residents and visitors arrive to enjoy everything Hot Springs has to offer. Just remember, at the end of a hard day of playing, those hot mineral springs are waiting for you.
We hear many stories of people coming to Hot Springs on vacation and decide to stay, buying a property to retire or use as a second home, vacation rental or primary residence. It just happens, they fall in love with the natural beauty, moderate regional climate and the friendly local folks.
Hot Springs Elementary School is an award winning school and one of the top in the state of North Carolina.
The Cherokee People discovered the sacred healing powers of the hot mineral springs millennia ago, and the European Settlers who came in the late 18th Century quickly learned of their amazing benefits. When our town was part of the busy East-West thoroughfare, the springs were a popular stopping point, with guests finding excuses to "stay a little bit longer" before heading out of town.
Sustainable farming has always been a part of the allure of our area, and it thrives today with many farms dating back to the original land grants. With the growth of the sustainable farming movement, this is a perfectly affordable place to get started. Can you hear the Heirloom Heritage Turkeys gobbling away and the Cattle lowing quietly, can you feel the wind blowing through the Christmas Tree farms and see the sun drenching the medicinal herbs and cold hardy muscadine grapes growing on our mountainsides? Madison County is growing the future of sustainable agriculture.
Contact French Broad Real Estate Company to learn about real estate for sale in Hot Springs and how we help you find your special home, cabin, farm or land.
Click here if you are looking for comparative Market Data for Hot Springs.